Zsófia Keresztes
Flames of Estrangement
2021, polystyrene, fibreglass, glue, glass mosaic, grout, metal chain, 60x90x27 cm. 
Flames of Estrangement blends sensuousness and virtuality, the analogue and the digital, the real and the surreal, and explores the questions surrounding the subject's self-identity. The complex and malleable system of iconographic shapes melting into one another, combines archaic forms and techniques of traditional crafts with the visual language and references of the millennial generation. Flames of Estrangement is centered on the motif of Pierrot, the lonely clown from Commedia dell'arte, who returns time and again as a despondent clown infatuated with, and naïvely devoted to, his love, who ultimately leaves him for Harlequin. The symmetric figure, fusing with its own mirror image, seeks to find its identity and stability in a perpetual cyclical motion.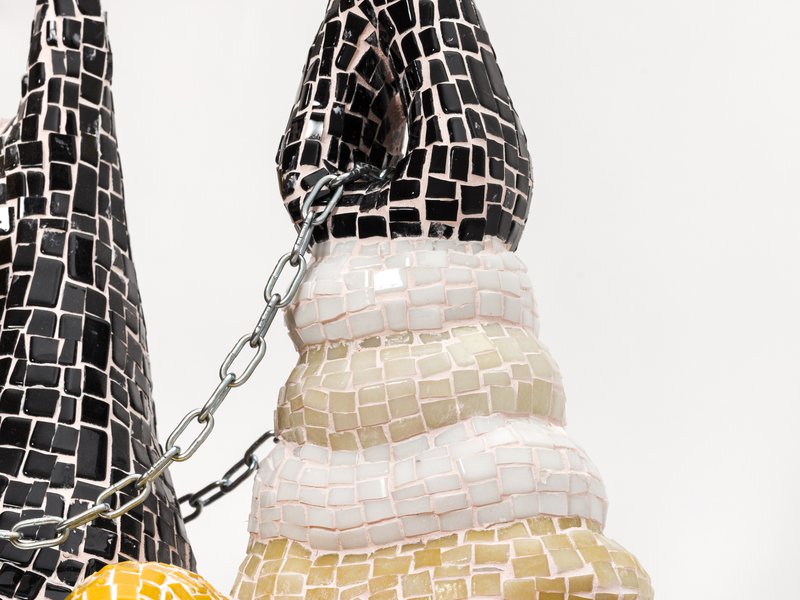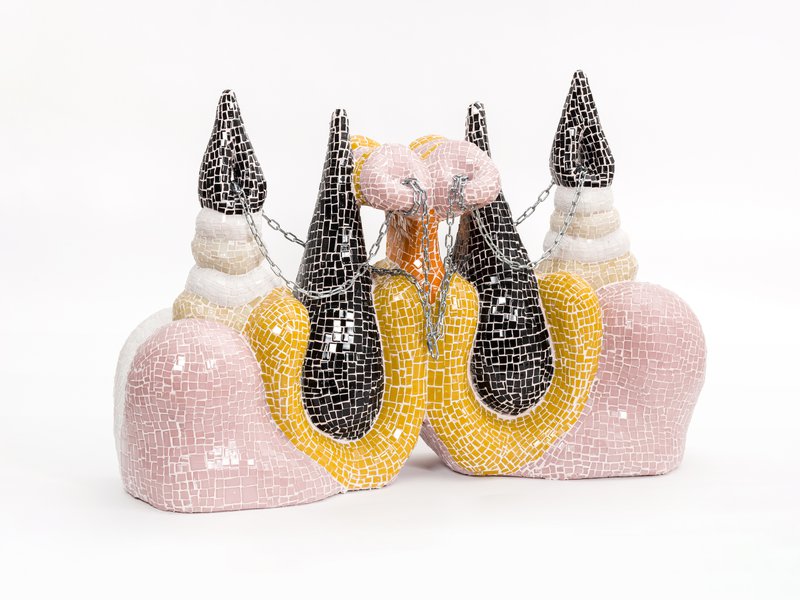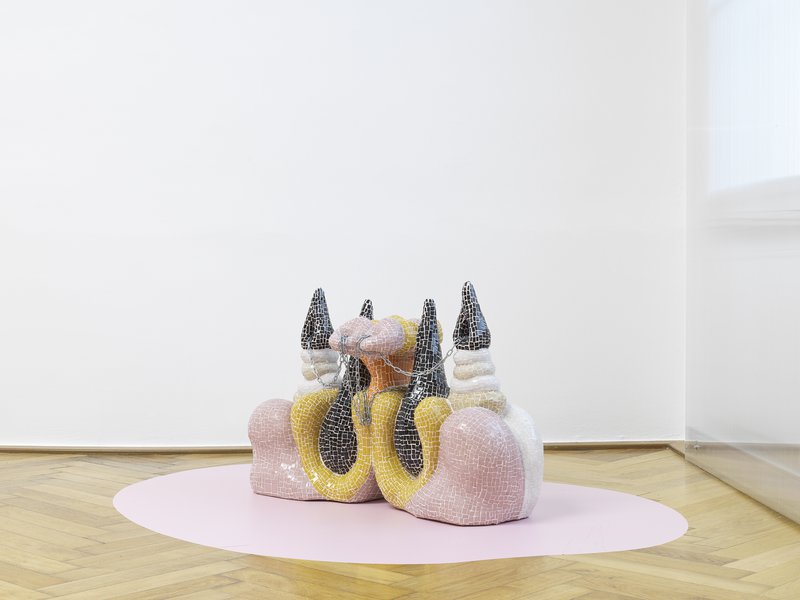 Zsófia Keresztes (1985) graduated in 2010 from the painting department of the Hungarian University of Fine Arts. During her university years, she experimented with transfering plane image into 3D space and created textile architectures. In her art, the complex and plastic system of fusing iconographic shapes is coupled with the formal language and references of the "millennial" generation. Her works can be interpreted as embodied mosaics that uniquely combine sensuality and virtuality, analogue and digital, real and surreal: creating an archaic yet contemporary visual language that revolves around issues of the subject's identity. As an outstanding talent of her generation, she has participated in many international solo and group exhibitions and biennials in recent years, and will represent Hungary at the 59th Venice Biennale in 2022 with her exhibition entitled After Dreams: I Dare to Defy the Damages. Most recently, the Ludwig Museum in Budapest, the 15th Lyon Biennale and the Institut d'art contemporain de Villeurbanne presented her sculptures and installations. She also took part in the exhibitions of Domaine Pommery in Reims, Kim? In Riga, BOZAR in Brussels, Bunkier Sztuki in Kraków, Meetfactory and Karlin Studios in Prague, Künstlerhaus- Halle für Kunst und Medien in Graz and the Trafó Gallery in Budapest. Keresztes lives and works in Budapest.