Katja Novitskova
Earthware (de novo synthesis 001)
2020, digital print, synthetic clay, steel, 136 x 114 x 4 cm


The De novo synthesis depicts life across micro and macro planes - it's potential forms almost instantly becoming cultural fossils themselves. Digital data processing and elaborated filtering mechanisms synthesize organic forms, patterns and poetic shapes - harbingers of a posthuman vision. Each of the egg shapes contains a figure, an abstracted embryo, lying in the middle. During the embryonic stage, all of the major organs and structures of the growing body are formed. It is both a state of complete vulnerability and one of unbelievable power, the strength of tenderness and pliancy. Digitally rendered synthetic forms are created with the use of machine learning algorithms and 3D modelling software and are then altered and composed. Algorithms are trained/fed from an image archive of Katja Novitskova  which includes documentation images and sketches of her own work, Katja as well as visual research material on biotechnology, images of laboratory animals, protein structures and viruses, shapes and patterns emerge that are organic but originate from complex digital image processing supported by artificial intelligence. Some of the resulting shapes bring to mind works by Hilma af Klint, Georgia O'Keeffe and C.G. Jung. Novitskova extrapolates the visual proximity and mesmerising poetry of said artworks by feeding some of their characteristic elements, like color scheme, into the algorithmic process.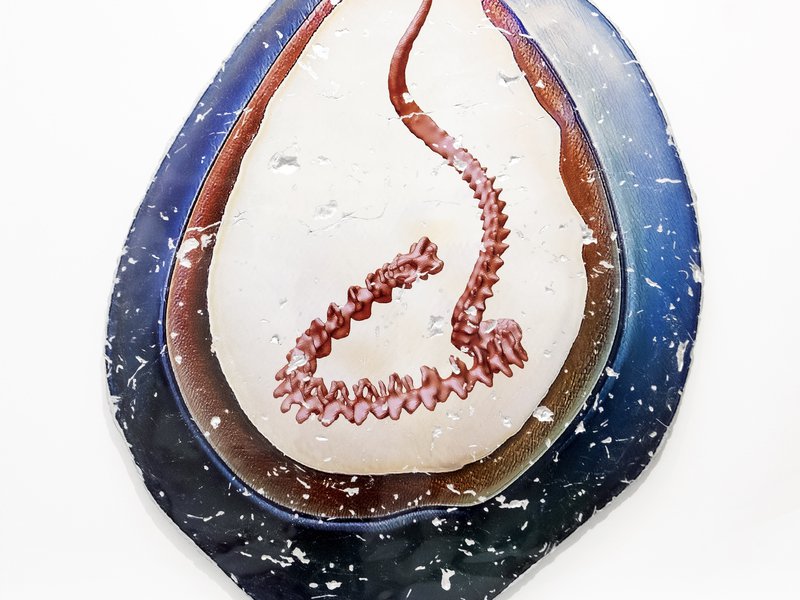 Mamaroo (smouldering brain, growth potential)
2018, electronic baby swing, robotic bugs, plastic hoses, lasers, epoxy clay, digital print, polyurethane resin, aluminum folding stand, 146 x 95 x 94 cm

Mamaroo (smouldering brain, growth potential) belongs to a series of electronic baby swings integrated with apparatuses of vision, alluding to the nascency of machine consciousness. Padded with patterned resin diaphragms, the rocking swings orchestrate an eerie prenatal environment inhabited by mutant forms.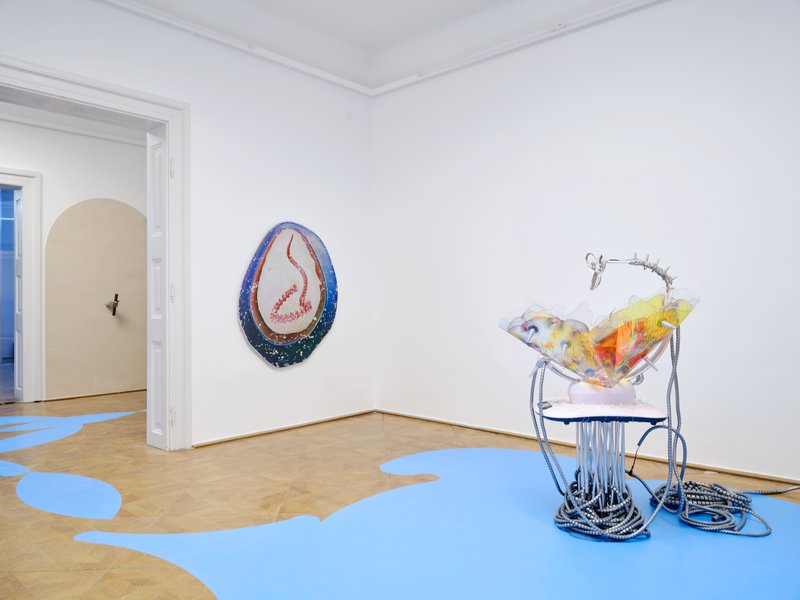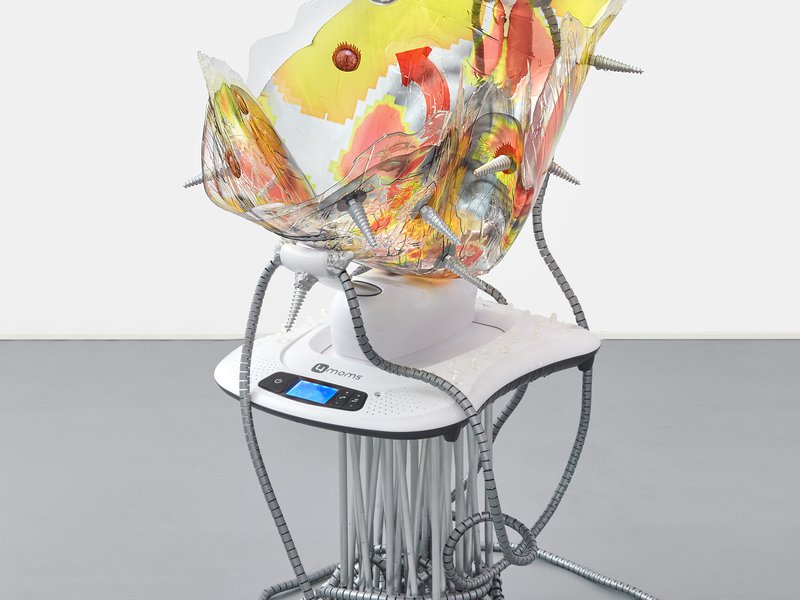 Katja Novitskova (1984, Estonia) lives and works in Berlin and Amsterdam. Her work tackles the complexity and eventual failures of depicting the world through technologically-driven narratives. By bringing together art and science to the level of nature, Novitskova brings awareness to the mediation and representation tools used to depict these realms. She was artist in residence at the Rijksakademie van Beeldende Kunsten in Amsterdam from 2013 to 2014. Her work has been exhibited internationally in solo and group exhibitions including Migros Museum für Gegenwartskunst, Zürich (2020); Sharjah Art Foundation (2020); Powerlong Museum, Shanghai (2019); Hamburger Bahnhof, Berlin (2019); the 14th Fellbach Trienniale (2019); CCA, Tel Aviv (2019); Marta Herford Museum, Herford (2018); Whitechapel Gallery, London (2018, solo); Kumu Art Museum, Tallinn (2018, solo), Baltic Triennial, Vilnius (2018); the Estonian Pavilion at the 57th Venice Biennale (2017, solo); The Public Art Fund, New York (2017, solo), Cc Foundation & Art Centre, Shanghai (2017, solo); Schirn Kunsthalle, Frankfurt (2017); The Museum of Contemporary Art Kiasma, Helsinki (2017); Kunsthal Charlottenborg, Copenhagen (2017); K11 Art Foundation, Shanghai (2017) and Greene Naftali, New York (2016, solo). Other solo and group exhibitions include Kunstverein in Hamburg (2016, solo); the 9th Berlin Biennale for Contemporary Art (2016); Museum Folkwang, Essen (Nam June Paik Award 2016); Yuz Museum, Shanghai (2016); Okayama Art Summit, (2016); The Museum of Modern Art, New York (2015); 13e Biennale de Lyonn (2015/2016); Kunsthalle Lissabon (2015, solo); Astrup Fearnley Museum, Oslo (2014); Fridericianum, Kassel (2013) and CCS Bard, New York (2012). She had her first solo exhibition at Kraupa-Tuskany Zeidler, Berlin, in 2012. Her work is in the collections of the National Museum Oslo; Museum Ludwig, Cologne; Moderna Museet, Stockholm; Kumu Art Museum, Estonia; Marta Herford, Herford; Sammlung zeitgenössischer Kunst der Bundesrepublik Deutschland, Bonn; Yuz Museum, Shanghai; Aishti Art Foundation, Beirut; Astrup Fearnley Museum, Oslo; Boros Collection, Berlin; CC Foundation, Shanghai; Fondazione Sandretto Re Rebaudengo, Turin; Ishikawa Foundation, Okayama; K11 Art Foundation, Shanghai; Ringier Collection, Zurich; Rubell Family Collection, Miami; Sishang Art Museum, Beijing. In 2018 the publishing house Ringier released their Annual Report with a commission of Novitskova. Between 2017 and 2018 her third artist book If Only You Could See What I've Seen with Your Eyes with Kumu Art Museum and Venice Biennale was published by Sternberg Press and in 2016 Dawn Mission was published with the Kunstverein in Hamburg. In 2010, she published the influential artist book the Post Internet Survival Guide.